Luxury Villa House-3
• Steel Grade: G350/G550
• Surface treatment: Galvalume, Galvanized, MIN. Z275/gram
• Design Wind Load: 160km/h
• Roof Slope:20%
• FOB Qingdao: USD 250/SQM including steel frame, roof & wall, ceiling & floor, doors & windows, bathroom facilities etc.
• MOQ: 1 Set House
• Factory Capacity: 100 sets house/month
• Leading time: 20 ~45 days
• Packing: Steel pallet package for container delivery
DETAILS
Prefabricated house container house luxury light steel house villa
◆ Product Description
Technical Parameters

Steel wall frame

Galvanized Steel C section steel C140X1.0mm; C90X1.0mm

Roof Frame

Galvanized Steel C section steel C90X1.0mm

Wall

OSB baord/Fiberglass thermal insulation / C140X1.0mm/OSB board or Gypsum Board

Floor

MGO board/thermal insualtion/ Light gauge steel frame/Ceramic tile and wooden ground floor

Ceiling

light gauge steel frame C90X1.0mm/MGO Board or Gypsum Board /Plaster

Electric

Ceiling lights, electric wire, socket

Window

Thermal Broken Aluminum window

Doors

Entrance door: steel security door, Inner door: wooden molded door

Toilet

Sprinkler, hand basin ,water closet

Drainage system

Provided plan, design and construction

Life span

50 Years

Container loading

40'HQ/40'OT or as request from Clients

Delivery time

20-30 working days after recopt of deposit

Application

Hotel,House,Office,Shop,Villa
◆ Advantages
1.Earthquake resistance: It can withstand 9 rare earthquakes and is suitable for areas with seismic intensity above 8
2.Wind resistance: resistant to 70m/s hurricane, Max. 280km/H
3.Durability: The main structure can last for more than 50 years
4.Fire resistance: refractory time of up to 1~4 hours according to different designs
5.Sound insulation: the sound insulation of the external wall can reach 75dB, and the inner wall can reach 55dB.
6.Heat Insulation: The thermal resistance of 200mm thick composite wall can reach 3.2m2K/W, which is 11 times that of traditional buildings of the same thickness.
7.Environmental protection: more than 90% of steel structure materials can be recycled, and most other supporting materials can be recycled.
8.Energy-saving: using new materials for heat preservation and heat insulation, the energy required for heating and cooling is 65% more energy-efficient than traditional buildings.
9.Housing rate: Light steel integrated housing increases the practical area by about 12% compared with traditional buildings
10.Construction period: assembly and standardization of light steel structure houses is simple and fast, saving 2/3 construction period compared with traditional structure
◆ Design capability
By using Auto CAD, PKPM,3DMAX,SAP2000,Tekla,etc. We can design different houses according to customes requirement.
◆ Product Parameters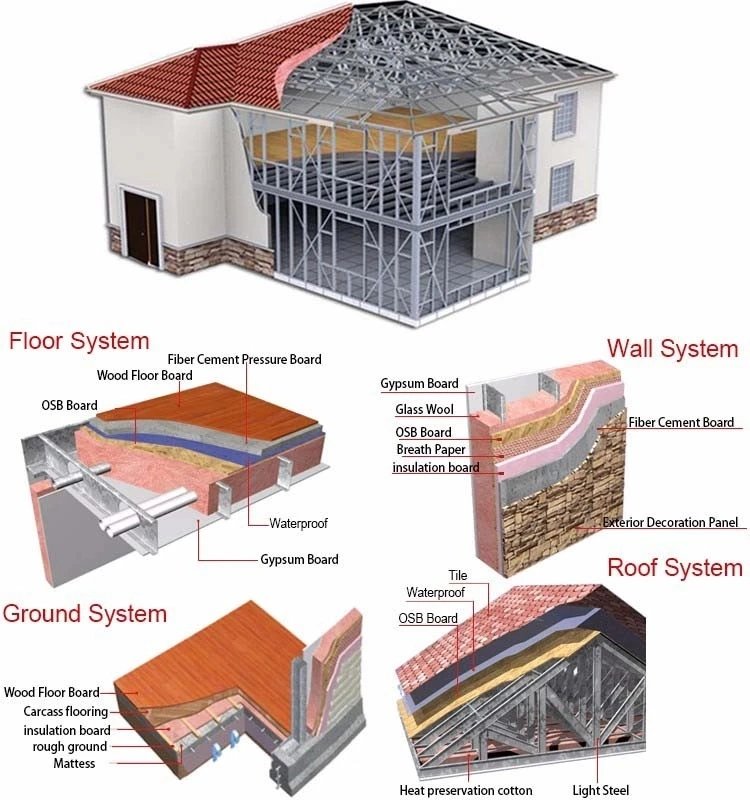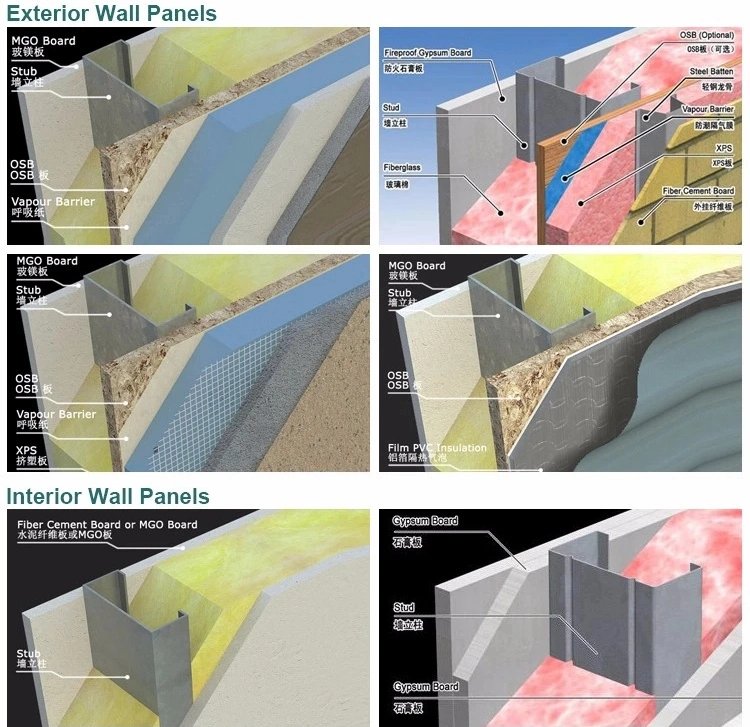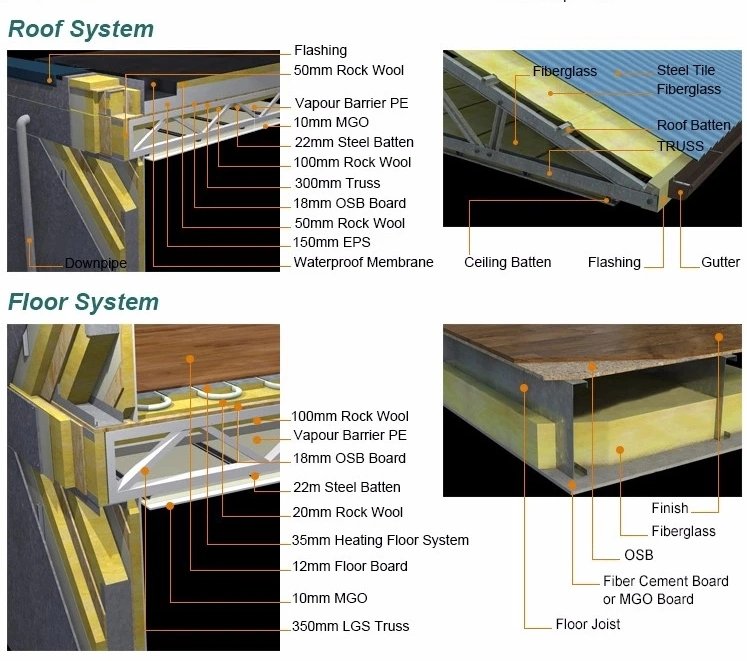 1. OSB board is a kind of oriented structural board supported by a specific molding process using small diameter timber, thinned wood and wood core as raw materials. Export Grade OSB board for house, and the formaldehyde emission is lower than the European standard E1. Thickness 12/16/18mm as request.

2. Thermal Insulation fiberglass mineral material
a. Class A1 non-combustible material
b. No odor, environmentally friendly and non-toxic
c. Thermal conductivity ≤0.03W/cm.k
d. heat resistance ≥700 degrees
e. Porous structure, good recovery, not afraid of any shock

3. Cold Form C profile
Light weight, easy for installation, Best Antirusting material as Grade G550, Galvalume treatment, AZ275gram/SQM, Thickness 1.0mm long term durability. Warranty min. 50 years.

◆ Factory Overview
Factory Established in 2008
Company Area more than 40,000 SQM
Workshop More than 25,000 SQM
Production Line:
2 Sets CNC Flame Cutting Machines
5 Lines for builtup H profiles
3 Lines for C Girt or Z purlins
3 Lines for Corrugated Wall or Roof Metal Sheet
3 Lines for Sandwich Panel Sheet---Wall, Roof, EPS, Glasswool, Rockwool, XPS, etc
1 Set Shot Blasting Machine for Painting Pretreatment.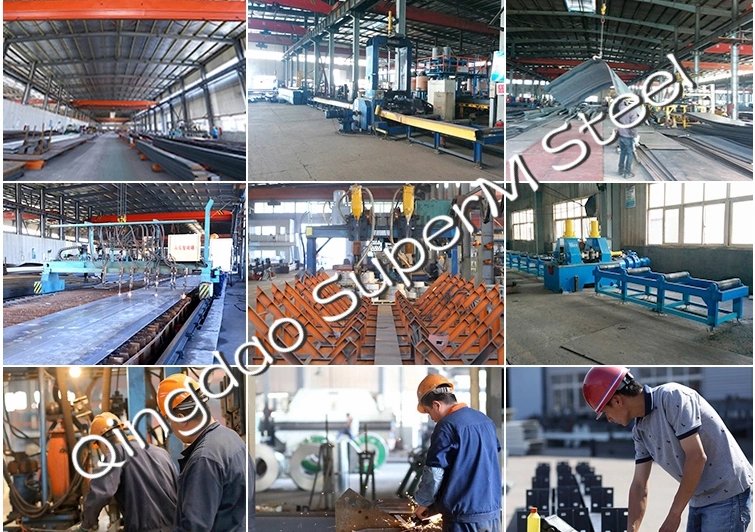 ◆ Quality Control
1. QC processing:
1. Every 3 months meeting for Quality Audit to solve the weakness during processing and procedures
2. Every 6 months meeting for employee training.
3. Producing as to the International Steel Structure Standard with ISO 9001 Quality Control System
4. Each project, every 6 months, connecting with clients for feedback and complaints, then improve the quality control actions.
5. Quality inspection report for every process during production. Ensure 100% good quality products.

◆ Company Certificates: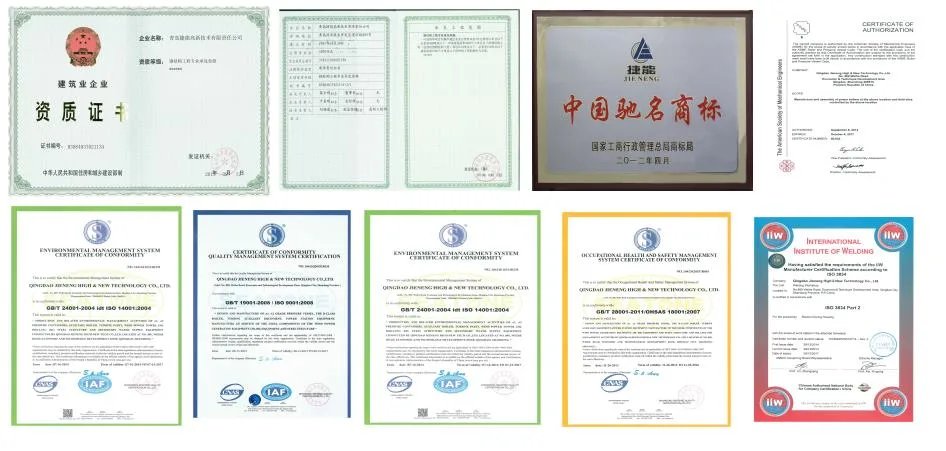 ◆ Guide Installation Processing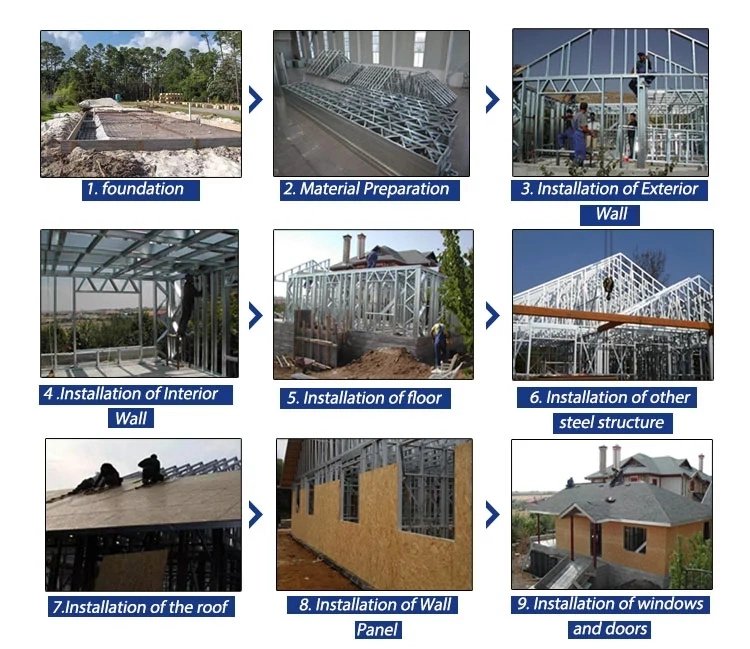 ◆ Packaging & Shipping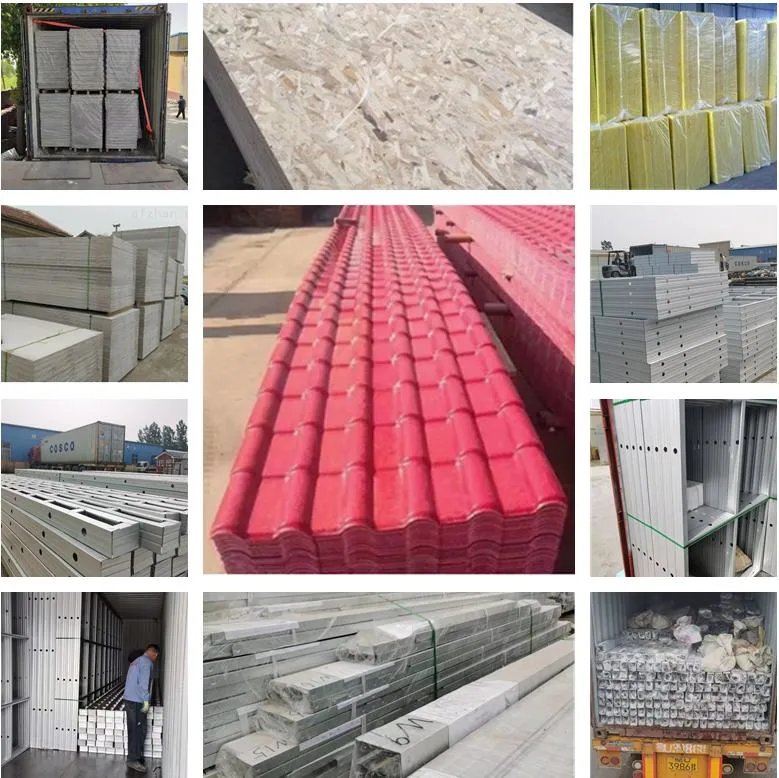 ◆ After Sales Service
We service customers more than 40 countries all over the world. We establish good business relationship with clients in Poland, Luxemburg, France, Germany, UK, Austria, Angola, South Africa, Egypt, Reunion Island, Maurituis, UAE, Dubai, Russia, India, Singapore, Thailand, Australia, New Zealand, Indonesia, Phillipines, Fiji, Sri Lanka, Mexico, USA, Canada, St. Lucia, Trinidada and Tobago, ect.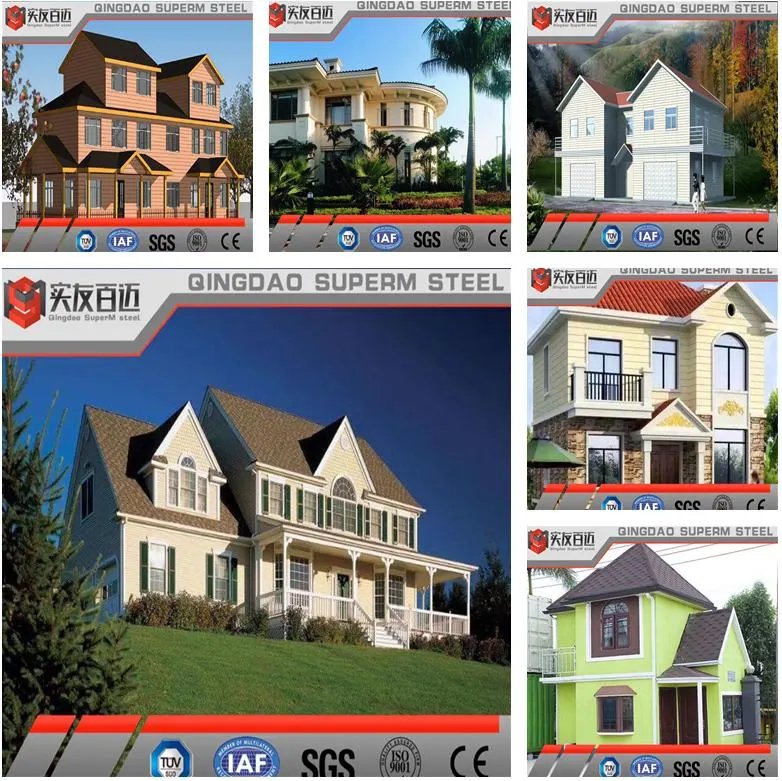 ◆ Our Customers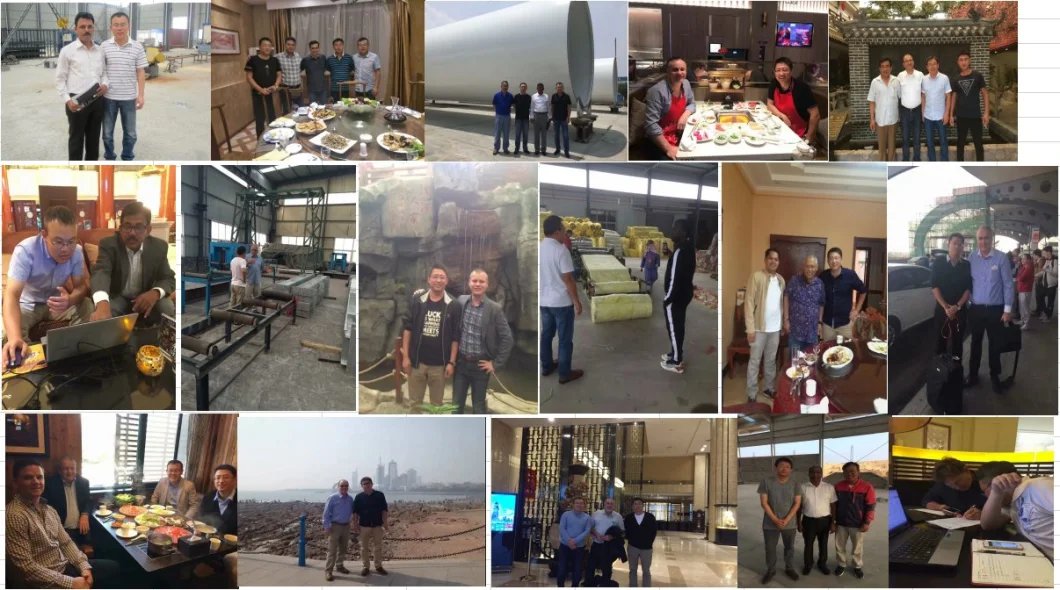 ◆ FAQ:
1.Q: Do you have the capability to design a new and unique steel villa for me?
A: Absolutely! We are able to provide you with not only construction scheme , but landscape design! One-stop service is our outstanding superiority with no doubt.
2.Q: What should I provide to build a steel villa?
A: if you have the plan layout, it will be easier for us.
If not, pls inform the wind speed, snow load, building dimension W X L X H, Rainfall capacity, Earthquake scales, etc. then we will design for you as request.
3.Q: How could I ensure the cost of building a steel villa ?
A: Firstly, the designing scheme should be accepted. Then, the kinds of building materials should be confirmed since different types and qualities make various prices. After that, we will send you a detailed quotation.
4.Q: How Long does it take to build a light steel prefab house?
A: It depends on the size of the house. Generally, one 50 square meter house five workers 1-3days finished installation, save manpower and time
5.Q: Is it difficult to build a steel villa ?
A: Totally not, you can build the house independently according to the construction drawings as long as you know how to use an electric tool.
6.Q: Does this kind of house can only be used in residential building?
A: Absolutely not. It can be used in all kinds of buildings, such as hotel, office, school, entertainment club, light industrial workshop, ect.
7.Q: Is steel villa stable?
A: Set your hearts at rest! You are completely safe living in light steel prefab house even if there are hurricanes of 200km/h and 9-grade earthquake outside.
8.Q: what are the advantages of steel villa comparing to the traditional building?
A: Better isolation of sound and heat,Better fireproof and anti-seismic,Wind resistance,Time and labor saving,More usable area,Excellent termite-proof capability
9.Q: Does steel villa look different from the ordinary one?
A: Yes. prefab house is more beautiful and suitable for any style.
Q10:How do we cooperate on certain project?
A: Discuss the parameter f
FREE

INQUIRY NOW

If you have any questions or needs about the product, please fill in the following form and we will contact you as soon as possible.